Trends & Developments in Banking
An introduction
Serving as a bridge between business and IT, Paul Higgins has become a citizen of the world, living in a variety of countries. Now, at Mendix, he is the Industry Principal for Financial Services & Banking in EMEA. In this article, Higgins gives us relevant insights into recent trends and developments in the banking sector and he explains why Mendix's solution fits so well in this industry.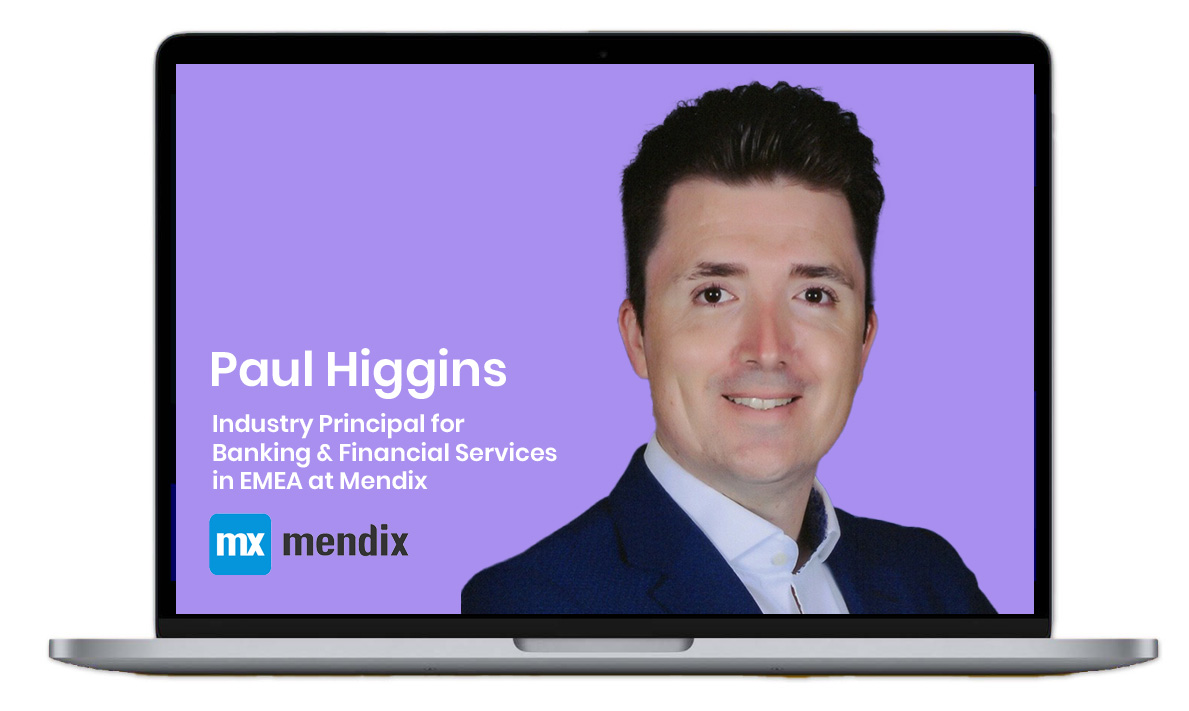 So, what solution does Mendix offer?
According to Higgins, this can be summarised in to 2 areas: 1: It helps translate what is being requested from a business side to what IT can deliver and it helps how fast these requests can be delivered.
2: Since there are a lot of silos in banking, in IT systems. Therefore, you often need to log in to various systems and maybe even manually copy data from one system into another. This is a very inefficient way of working. Having a system like Mendix that enables you to provide a bracket over these various systems is a huge value add. Besides this, it helps employees because it is a better work environment for them to be in. Another thing is: providing faster services while also providing a better quality of service to the customer.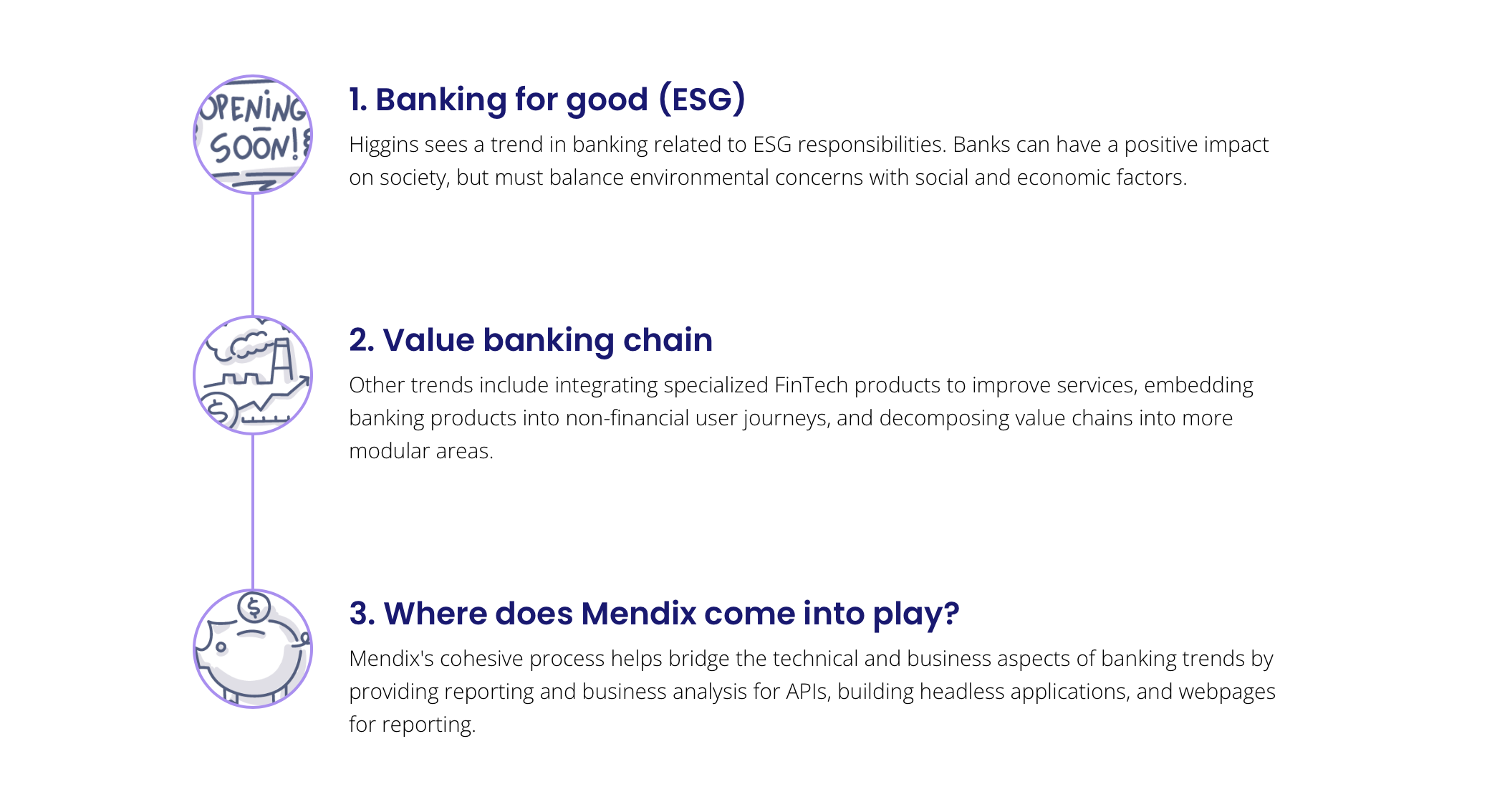 When looking at developments and trends in the banking industry, one of the trends that Higgins identifies is within ESG. "When looking at the E within ESG which stands for environmental, all of it comes in the idea of what banks or banking in general can do for good. So, the impact that banks can have on society. And the current criteria that businesses and people in general face in order to have access to funding can be a motivating factor." Higgins thinks banking can be very interesting here. He mentions that the same goes not only with environmental responsibilities but social responsibilities as well. Higgins continues: "But it's important not to draw black-and-white lines here. For example, we know we need to reduce carbon emissions but if you were to say as a bank, we are not going to fund anything that has to do with coal anymore, that then has an enormous impact on countries that have an economy based around coal. So, this is where the social impact comes in, balanced with the environmental impact."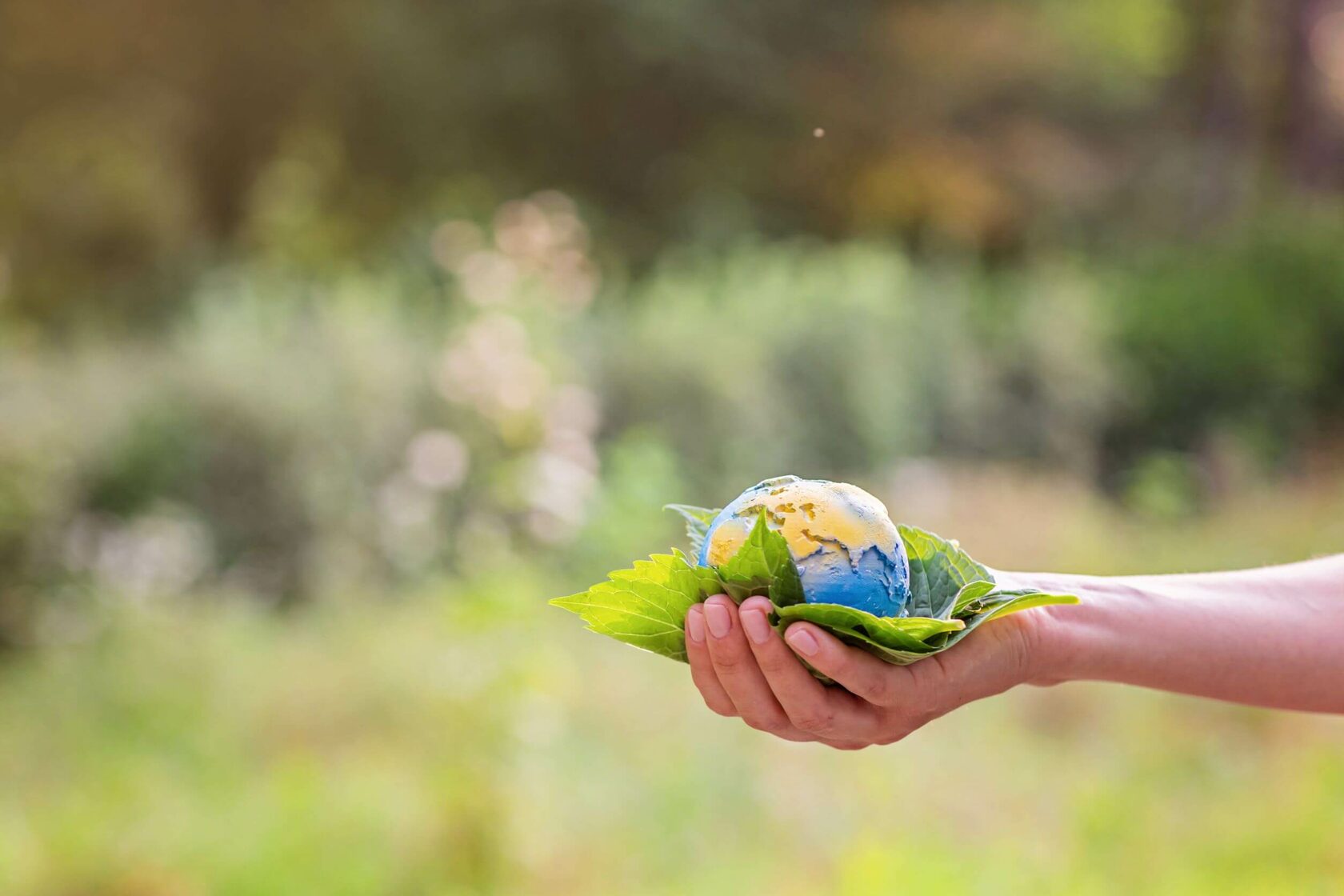 Other developments are to do with the value chain itself. "Value banking chains being broken up and decomposed into more modular areas is something that a bank needs to face from a business and an IT perspective." Higgins highlights that these are not stand-alone topics, they connect to each other.
With this decomposition of value chains, the point is that you have some players on the market who are very specific in what they do and excel in that, while also having other, larger universal banks who don't have that niche quality there.
"The thing is they need to be able to compete, so ideally what they do is take parts of these FinTechs and use that as part of their product and services. In that way, they raise the total quality of what is being offered and deliver more of what the customer is looking for. Therefore, if each bank operates on its own island and they don't have external influence while also not using these products it would be detrimental to the customer. So, for these third parties and other service providers, being able to integrate this into different services and products is crucial."
According to Higgins, this also works the other way around. Digital ecosystems and specifically embedding banking products into non-financial user journeys is a crucial development.
This again has an impact on the IT stack, how one delivers software and how IT is structured. An example that Higgins gives of such embedded finance is a service which Klarna offers, 'buy now, pay later'. "That is what this is, it's a bank product, in this case, a loan" However, it's unsecured because the bank does not own the product which it provides a loan for. "The point is, it's embedded into the customer journey. When you want to buy something, let's say a phone, you don't have to call your bank and get a loan for that amount. Instead, you select that you would like to pay over several instalments, and everything happens in the background." This way, the customer does not have to leave the customer journey.
"If each bank operates on its own island and they don't have external influence while also not using these products it would be detrimental to the customer."
Where does Mendix come into play?
Higgins then makes the bridge to where Mendix comes into play in all this. "You need something that makes a cohesive process out of all these building blocks, that is the technical aspect of Mendix. On the business side of it, you need a certain view of what is happening. Reports like how many 'buy now, pay later' loans have I offered? How many times did the customer not complete the customer journey? How much volume went through? Etc. A lot of business analysis or business reporting is required as well and when you're building an API that is just a digital interface, you need some other kind of interface that is going to pull out all this reporting for you. The way that Mendix works, and the way that it is set up, lends itself very well to this. It enables you to build the headless application that is exposed as an API for providing a technical view, while then being able to easily build some webpages to do the reporting."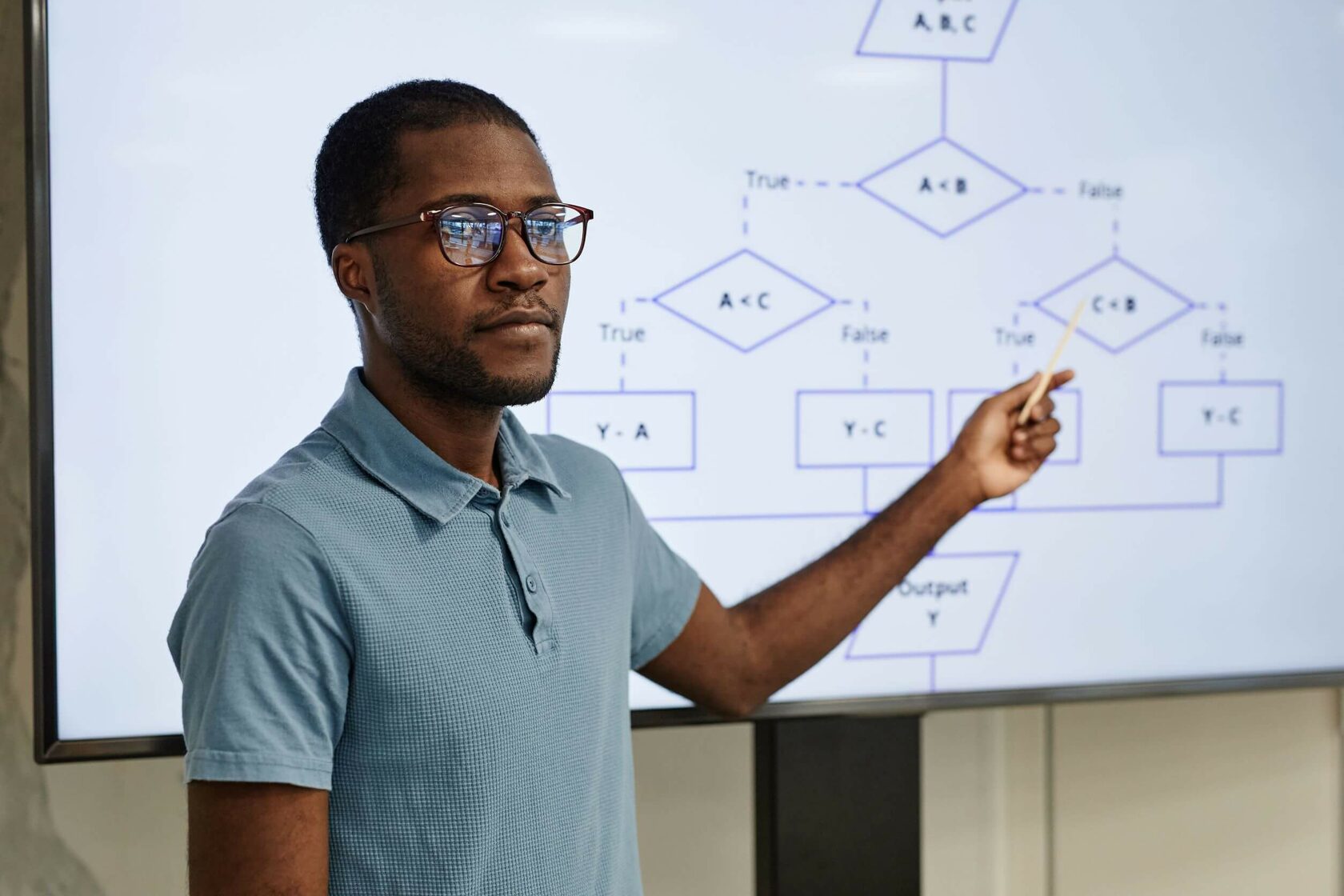 "You need something that makes a cohesive process out of all these building blocks, that is the technical aspect of Mendix."
Where Mendix really distinguishes itself according to Higgins is the business/IT collaboration and the pace and scale at which requirements can be delivered. When asked what his vision for an ideal world would be, specifically related to the financial sector, Higgins has a clear idea. "I think regarding the environmental and social issues the world is facing today; banking is well-positioned to have an important role. And so, it's a case of delivering on promises. There is a lot of promise and there is a lot of potential, so I think that the important aspect is going to be delivering on that." Higgins also predicts a shift towards decentralization and a shift away from lean processes, where everything is timed to the minute, to a more 'robust' set of processes. By moving towards this more 'robust' way of working, one can act more swiftly on changes happening in the environment.
Insights into the Future of Financial Services
Like in every industry, banks can rely on one thing: change is the only constant. However, keeping up with this change in the current macroeconomic landscape is more challenging than ever. Customer expectations are rapidly evolving towards more personalized and digital banking experiences. Newcomers are entering the industry with disruptive business models powered by advanced technology to respond to these expectations. And at the same time budget restrictions, new regulations and guidelines for corporate responsibility require banks to critically look at their operations and strategy. In this overview, we provide you with insights that can help you shape the future of your organisation and stay ahead of the changes rather than just react to it.