Why does the econometrics study
fit within Finaps very well?
Reflecting on our first 10 years means also reflecting on our start and the employees who have joined since then. Within 10 years, Finaps has become a mid-size company with 54 employees fully able to design, build and run the business solutions for our clients from start to finish. While the aims of Finaps have not changed within these years, the company itself has, as well as the working and development possibilities within Finaps.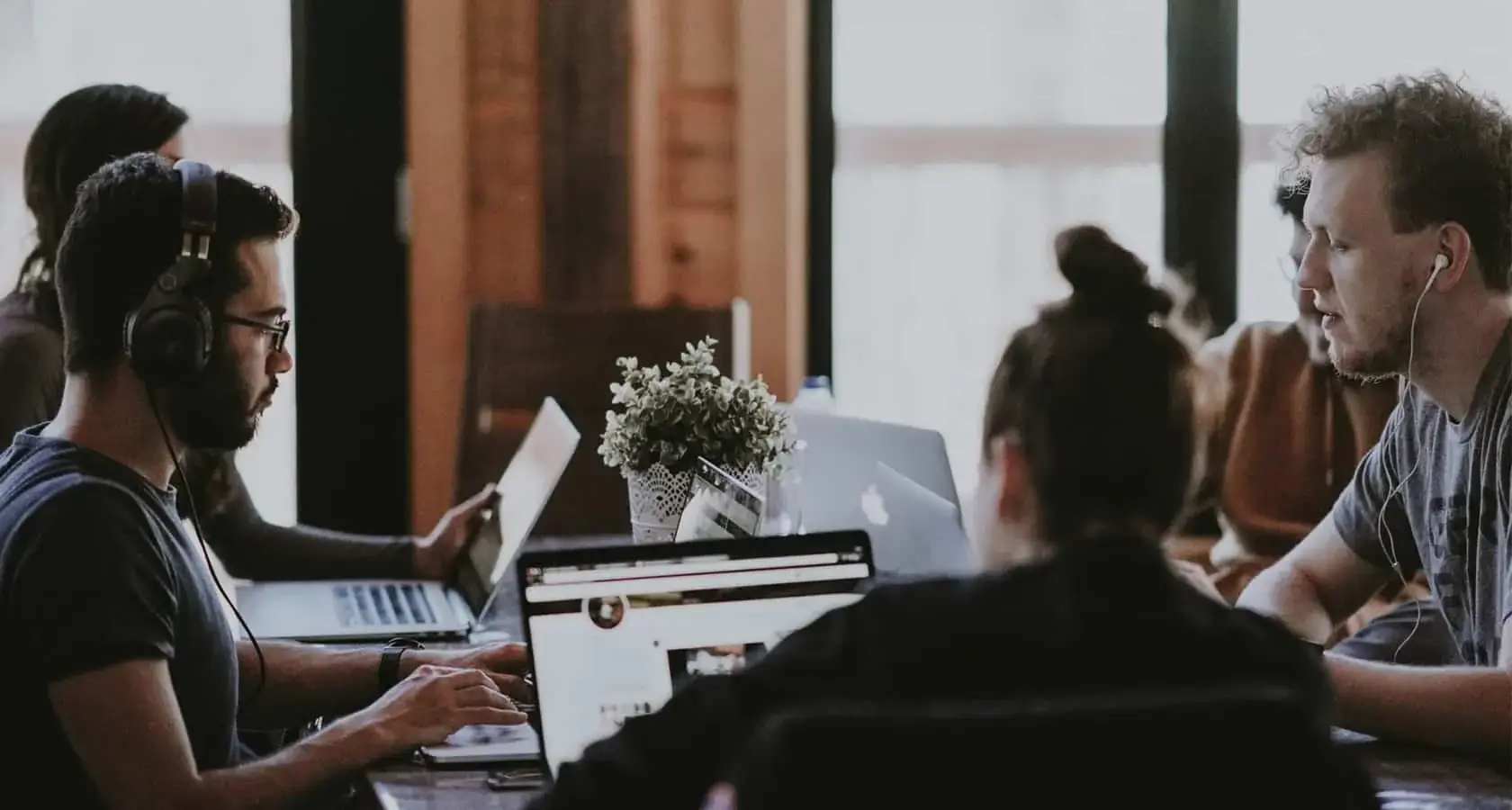 Date: 12-2020
In this interview we asked Ron Stoop (Senior Business Engineer) and Thomas Poiesz (Senior Software Engineer) about their experiences at Finaps as former Econometrics students at the VU University and former members of the Kraket Student Association. We were especially interested why an econometrics study fits Finaps very well, now and in the past.
Though, they both received the same education, it is fascinating to see how they have moved to very different directions and filled in different roles within Finaps. Therefore, in the interview we also focused on their experiences at Finaps in the past years in achieving their own professional interests.
Ron Stoop
Senior Business Engineer
Thomas Poiesz
Senior Software Engineer
What do you think if I say: "Working in software development? Working at Finaps!"?
Thomas Poiesz
There is always room to learn new things and challenge yourself when doing software development. At Finaps you get space and time to learn the ropes and the teams are full of incredibly nice, interesting and talented people to work together with.
Ron Stoop
Software Development is a very broad subject and Finaps is active on a lot of aspects of this. Although originally started with only Mendix as (low-code) software platform, Finaps has a lot more to offer nowadays. Besides the Mendix teams, we also have teams active in other software fields.
Why did you choose Finaps at the time? Did you consider other work or other software development companies?
Thomas Poiesz
The only thing I knew back when I finished university was that I wanted to do 'something with programming', but I did not have a very concrete idea of the options or even what field of programming I really wanted to work in. A recruitment agency brought me into contact with Finaps after I told them about my wishes. After a few enjoyable talks with management and employees of Finaps I started working here and never looked back.
Ron Stoop
Before I started at Finaps I worked for a company that makes software for container terminals. My job was somewhere between the developers and the people who had contact with the clients at the terminals. I missed both parts and when a recruitment agency introduced me at Finaps I had no doubt that this was what I was looking for. I develop software while having direct contact with the clients.
Why does the econometrics study fit within Finaps very well?
Thomas Poiesz
I specialized in Operations Research. I think the main way this prepared me for my work at Finaps is that it provided me with a strong problem-solving ability and mentality. During the study of Econometrics & OR you learn how to take a big, complex problem and model it so you can really understand how it works and solve the problem. Software development is similar. You and your team have a big system to build and you need to structure and model the requirements in code, so the program solves the needs of the customer.
Ron Stoop
At Finaps we are not only developing software, but also think together with the client what the optimal solution is for their business cases. These can be quite big and complex cases and during my study I learned a way of thinking that helps me solve them. Also, the software implementation can be a complex puzzle. You must create the software in such a way that other developers can relatively easily see what is happening, maintaining does not take unnecessarily long and the performance is good.
What is your position at Finaps? How can you use your study in your working field?
Thomas Poiesz
I am a Senior Software Engineer. I mainly use C# to build backend services that are responsible for validating, processing and storing data correctly. I don't think I actually use a lot of techniques I learned during the study directly. During the study I learned to program and how to use code to solve problems. This knowledge I still use every day. I also learned how to tackle a problem together with other people. At Finaps you always work together in a team. Of course, the mathematical skills and knowledge of the financial world acquired while studying econometrics are always a big help in understanding the problems our customers face.
Ron Stoop
My job title at Finaps is Senior Business Engineer. This means that I work closely together with the clients in developing their applications. Finaps has a diverse client base, e.g. in the financial or the logistic world, and my study gave me a good background in understanding their business. However, the biggest way my study helped me in my work was developing an analytic, accurate and efficient way of thinking and working.
Open source perspective vs Mendix perspective – working at Finaps as Engineer with econometrics study
Thomas Poiesz
When I started at Finaps I worked with Mendix. This was great for me, because I had never built an actual software application in my life. After some years I wanted to develop in a more traditional, code-based manner, which in my opinion offers more challenge and flexibility. There were a few other colleagues who shared the same wish. Together we created the 'Labs' team. Initially the focus was on helping with the more technical challenges that came up in some Mendix projects and building tooling to support other engineers, but since then Labs has grown into a large team that handles big development projects. We design IT systems, write code and maintain application infrastructure if needed, using modern technologies. I think this shows that within Finaps there is room for people to do different things based on what skills they want to use and develop, and that every employee plays role in the course the company takes.
Ron Stoop
Since I started at Finaps I have only worked with Mendix. Mendix is a tool that helps you build web applications using a visual designer instead of code, which is often a more approachable way to get up and running building applications. For me that works fine, I like the relatively quick development of applications with Mendix. Of course, working purely with Mendix has its limitations, but I rarely run into blocking issues. Mendix has the possibility to insert some code (like Java, JS or HTML) which gives some more flexibility and there is always a colleague willing to help the 'less technical' writing this.
Why do you find Finaps a great place to work professionally and personally?
Thomas Poiesz
As long as you are interested in IT and software development, Finaps offers a lot of different opportunities. You can learn how to create beautiful pages, or really optimize some data process in the background, or even spend your time setting up servers and other infrastructure if you're into that kind of stuff (like me). More importantly, the people who work at Finaps are just great. There are people from all different kinds of backgrounds and with wide-ranging interests and it's always fun to work or hang out together at the office or, in these troubling times, in a virtual call. The challenge and diversity of the job and the ability to work with such talented and nice people means I enjoy every working day.
Ron Stoop
Working at Finaps means that you can learn new things and specialize in the fields you like. Finaps always tries to fit your work according to your strengths and wants, but also let you out of your comfort zone for professional and personal growth. Besides that, and not less important, Finaps has a great team of colleagues. Everyone is always willing to help each other and when the work is done there is time for some fun. At our beautiful office near the Vondelpark we have set up the attic as a place to relax or to get rid of your aggression while playing table football of tennis. Some are very fanatic in these. In normal times Finaps always tries to have everyone at the office on Fridays, so that you do not lose contact with colleagues you do not see at the clients. This all is to ensure that everyone is part of the Finaps family.