Winners of
Unilever Heart Health Hackathon 2014
Tackling heart health and taking a bite out of the competition.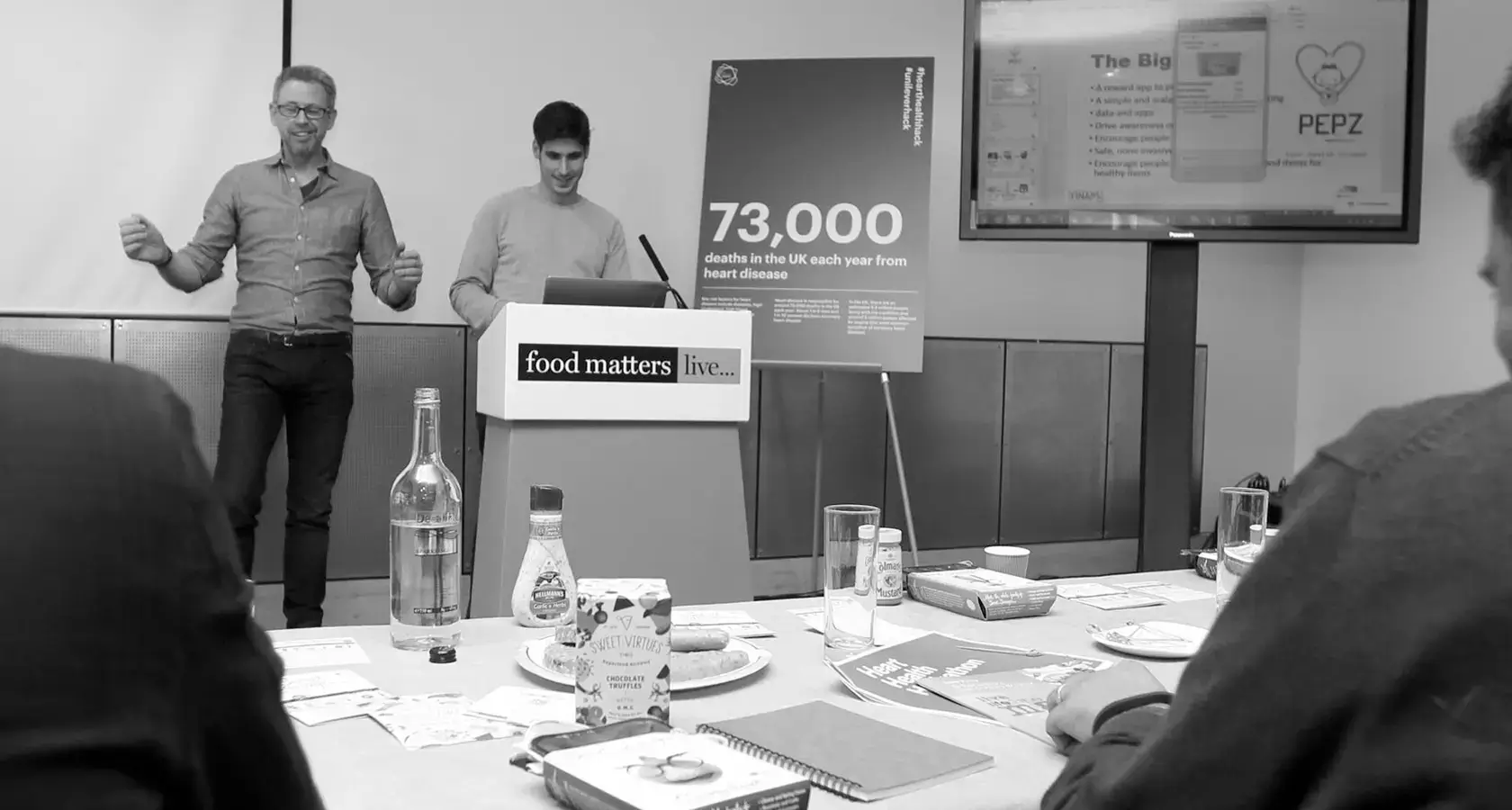 Date: 11-2014
Heart health is a deeply concerning and pressing issue. It is extremely difficult to educate consumers without overwhelming them with too much information or with lectures which can come across as preachy. Furthermore, consumers need to be able to access everyday foods which are both nutritious and delicious.
Unilever wanted to explore how they could invest in technology solutions that would provide information to the consumer in an easily digestible, bite-sized way.
Therefore, Unilever invited multiple startups to the Heart Health Hackathon in London to address these many challenges. Who could come up with the best solution in just 24 hours? Coming off the back of two recent hackathon victories in 2014, relative newcomers Finaps decided to take up the challenge.
Just getting to the event was literally quite the journey. After loading up the team and some extra screens into one car and driving through the night from Amsterdam to London, Finaps finally arrived.
So what did Finaps come up with? Enter Pepz.
The idea is simple: you buy your groceries, scan a Tesco Club Card and Pepz-points are automatically added to account which can be redeemed for products and discounts in the Pepz store.
After some brainstorming with the mentors, the idea quickly grew to incorporate the Unilever Heart Age API to allow users to calculate their heart age v.s. their actual age and also highlight things like cholesterol or blood pressure.
This app could also be used by people while they are grocery shopping. Users simply had to scan the product's barcode, and the app would recognize the product. The consumer would then be provided with nutritional information about their product choice (and also the 'Pepz-value'), and would even be suggested some healthier alternatives. The user would even receive push notifications that Pepz-points had been added to their account.
This application was built completely from scratch and was functional in under 24 hours. Despite the extra hurdles, Finaps impressed so much that they were declared the winners of the Unilever Heart Health Hackathon!